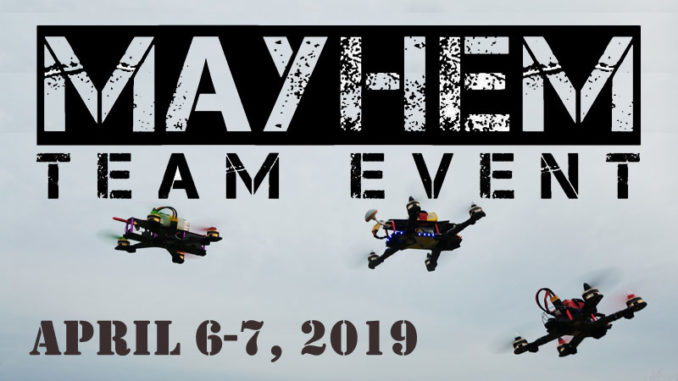 From dawn to Dusk we will be having Mayhem in New Orleans.
Mayhem in Avondale will take place this April 6, 2019 and April 7, 2019. This is the first of it's kind. Non stop racing all day, 6-8 teams
Event schedule
Friday April 5
6pm – 8pm Registration and tech for team racing only.
Saturday April 6 – Team Racing
Team racing starts at Dawn
Sunday April 7 – Singles Racing
8:30am – Registration and tech
10:00am – Pilots meeting and track walkabout
Practice will follow track walkabout
Practice will last 2 hours followed by 5 qualifying rounds and Letter Mains with bumps.
Saturday April 6- Team Information
There will be a maximum of 8 (min 6) teams. First 8 teams who send in the registration fee will be the teams to compete.
Registration deadline is March 21st
Registration fee is $275 per team, AcadianaFPV PayPal
Teams will consist of 8 pilots plus a Captain, a Spotter is recommended.
Each team needs a team name and a team captain. Team captain will be responsible for payment of the entry fee.
It is encouraged that each team wear same color t-shirts. Cheap plain color shirts, logo shirts or sponsor shirts. This helps identify teams and improves safety.
Sunday April 7 – Individual Racing (If we have leftover quads)
5 Qualifying Rounds – 2 minutes
Best 3 Consecutive laps will seed the main.
Double Elimination (Depends on Entries) First to "X" Laps
Aircraft Information
Quads can only carry one battery
300mm motor to motor max
6″ maximum prop size
NO limit for Battery cell count or capacity Battery limit
25mW vTx, with left and right hand antenna.
Each of the team's quads will have the same assigned 5.8ghz frequency.
No Dipole antennas allowed.
No limit on how many quads the team can use, but all of the team's quads must pass tech inspection.
Highly encouraged to have rear facing LEDs. This decreases rear collisions and helps identify quads during the live stream.
R1 is left hand, R2 is right handed and so on. Odds, left, evens right handed.
Race Format
Team with the most laps at dusk. Only the laps counted by timing system will be honored, unless a team uses a spotter.
Any miscounted laps will be tallied once a team reaches the lap count. Lap discrepancies will be added up and the team with the most laps wins.
Each Pilot will compete, no minimum number of laps.
Each team will have a specific pit stop area. Can only take off and land in this area.
No restrictions on how the aircraft can land 😉
The next team pilot cannot take off until his teammate's quad has landed and powered off or crashed and powered off. If Quadcopter crashes, it can only be retrieved by one of its team members.
More details and rules to follow in the Facebook Event Group.
Originally posted 2019-01-22 21:16:44.